In conversation with Patrick Minford

The Contrarian Prize presents - Brexit and beyond
Professor Patrick Minford in Conversation with Ali Miraj
Wednesday 5 December 2018
---
"The conclusion is clear for Britain's economy and for families – leaving the EU would be the most extraordinary self-inflicted wound…Britain would be permanently poorer, to the tune of £4,300 a year for every household" George Osborne
Two years on from the referendum we wait to see the true impact of Brexit. Friday 29 March, the date that Britain will formally exit the EU, is rapidly approaching. Many commentators predict impending turmoil and economic damage. Britain's future relationship with the EU remains unclear. Is it really necessary to leave the Customs Union and the Single Market? Will we be able to sell goods and services to our largest export market? Will we be able to staff public services and businesses in multiple sectors?
Others argue that Brexit presents a unique opportunity to relinquish the shackles of the highly protectionist EU bloc and to begin to trade freely with the world. They also point out that the burden of red tape and regulation can be slashed. But how easy and realistic will it be to conclude free trade agreements with other countries? What impact will the potential influx of cheap goods to the UK have on businesses that have thus far benefitted from protection? What will this mean for jobs? Will we really want to dumb down regulations on goods that have protected us for so long? What impact will Brexit have on the City?
Winner of the Contrarian Prize, the leading economist Professor Patrick Minford in conversation with Ali Miraj, outlined his vision of what a deal between the EU and the UK should encompass and explain why he has been a leading proponent to leave the EU and move to free trade for decades. He was robustly challenged which ensured a stimulating and lively exchange of views. It provided an insight into what the UK post-Brexit will look like.
Professor Minford will also be signing the copies of his book Should Britain leave the EU? An economic analysis of a troubled relationship.
---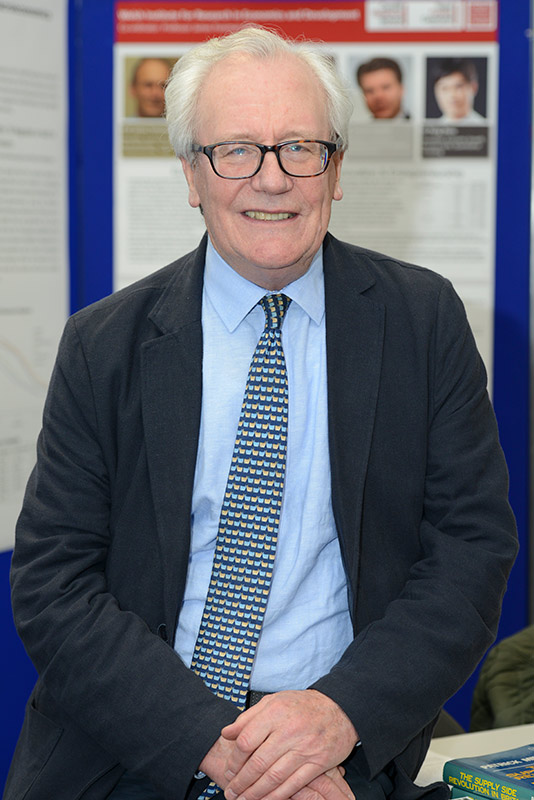 Patrick Minford is a macroeconomist who holds the chair of Applied Economics at Cardiff University where he directs the Julian Hodge Institute of Applied Macroeconomics. Before academic life he was an economic adviser to Her Majesty's Treasury's External Division and editor of the National Institute Review. From 1976 to 1997, he was the Edward Gonner Professor of Applied Economics at Liverpool University where he founded and directed the Liverpool Research Group in Macroeconomics; this built the 'Liverpool Model' of the UK, which was influential in forecasting and policy analysis during the 1980s. He was a member of Monopolies and Mergers Commission 1990-96; and one of the H M Treasury's Panel of Forecasters ('6 Wise Men') January 1993-December 1996. He was made a C.B.E. for services to economics in 1996. His economic interests include monetary, trade, labour market and macro economics and modelling. Recent publications include: Should Britain leave the EU? An economic analysis of a troubled relationship, (with S. Gupta, V. Mahambare, V. Le and Y. Xu) Edward Elgar, second edition, (2015).
---