Contrarian Prize In The Mix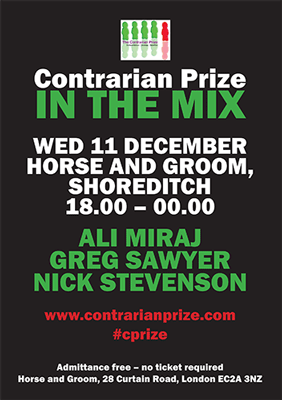 "Contrarian Prize In The Mix" is a attempt to celebrate the values that the prize seeks to promote. All nominations for the prize come directly from members of the public who nominate via the website.
Ali Miraj, 39, a Chartered Accountant and former politician who founded the prize, is also a Point Blank trained DJ and the erstwhile auditor of Ministry of Sound and Defected Records. "It is important to engage the broadest possible audience in the process. I love House music and thought that it would be fun and contrarian to throw a party to promote the prize."
Neil Thornton, head of PR at the Horse & Groom in Shoreditch, where the event will take place said, "We are delighted to support this important initiative. Recognising people that put their head above the parapet for what they believe in is a powerful idea." Miraj will spinning House beats alongside Greg Sawyer from Defected Records and Nick Stevenson from Mixmag from 6pm until midnight.
Contrarian Prize in the Mix - Wednesday 11 December, 6pm to midnight, Horse & Groom, 28 Curtain Road in Shoreditch EC2A 3NZ. Admittance is free.
26/11/13